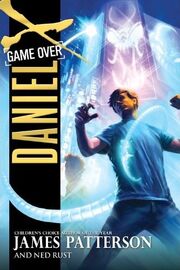 The fourth
Daniel X
novel,
Daniel X: Game Over
, is to be released in e-book and bound format on September 19th of this year.
Daniel X fans are excited for this installment of the series, written by James Patterson and Ned Rust. It promises to be an exciting ride as described in the novel description from the James Patterson official website below.
"
When Daniel X discovers that a duo of evil extraterrestrials is plotting to control kids around the world through videogames, he's determined to take them both out of commission. This pair of wicked game masters wants to destroy the human race by turning brainwashed videogamers into an unstoppable army of doom! They're also running an endangered species hunting club on the side, and their next target is none other than Daniel. He'll have no choice but to turn to the aliens' rebellious son who needs help to stand up to his malicious parents. But can Daniel trust the progeny of this treacherous twosome? Or will it be "Game Over" for the alien hunter?
"
Help expand the spoilers page for this novel as we await eagerly for the release of Daniel X: Game Over!
Ad blocker interference detected!
Wikia is a free-to-use site that makes money from advertising. We have a modified experience for viewers using ad blockers

Wikia is not accessible if you've made further modifications. Remove the custom ad blocker rule(s) and the page will load as expected.